RESISTANCE Announces Historic Nine-Stop Tour of Latin America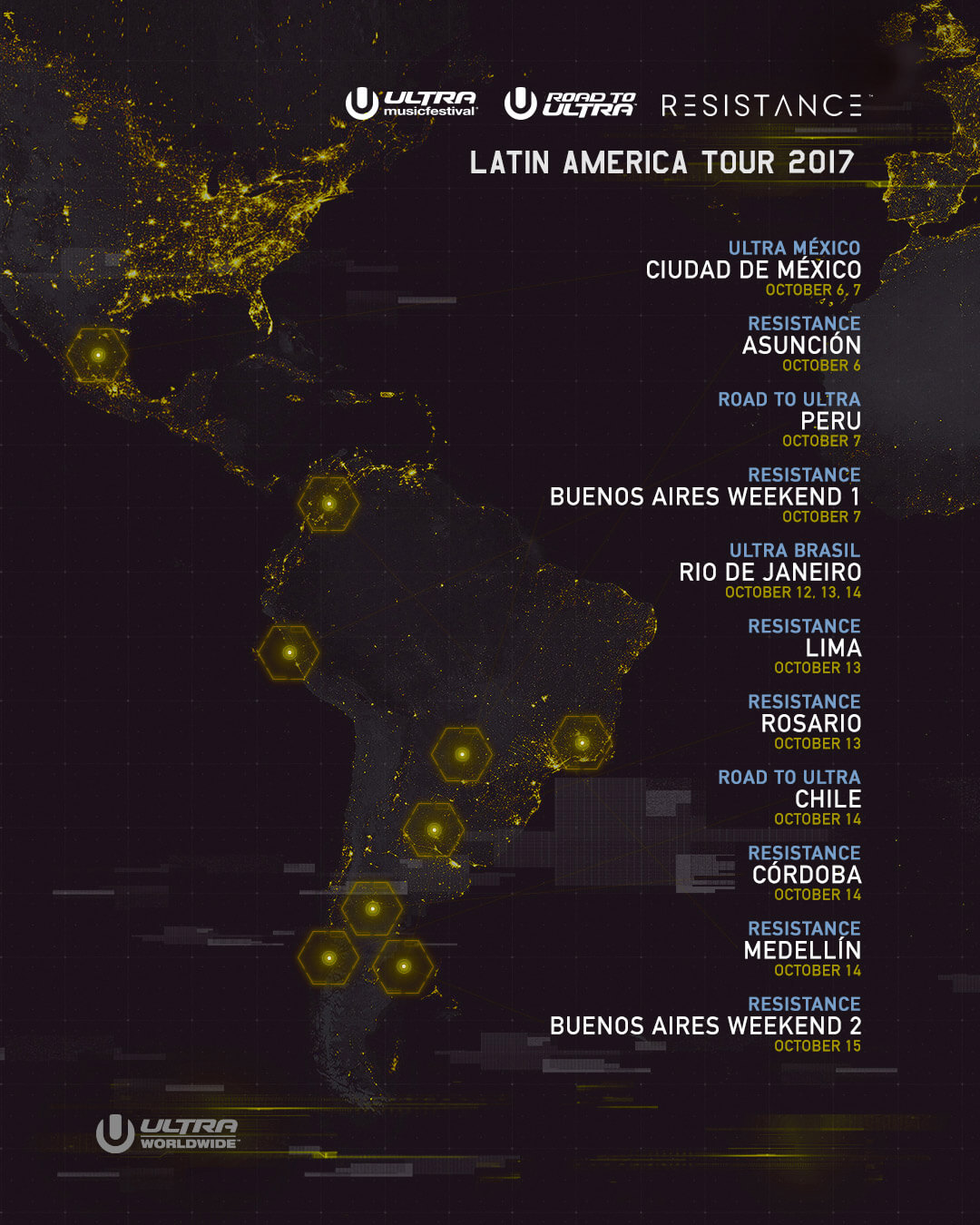 ROAD TO ULTRA RETURNS TO PERU AND CHILE, OCTOBER 7 & 14
LINEUPS FOR ALL ULTRA WORLDWIDE LATIN AMERICA DATES RELEASED
TICKETS FOR ALL EVENTS ON SALE NOW
Following the conclusion of RESISTANCE's landmark 8-week residency at Privilege Ibiza and ULTRA Worldwide's biggest tour of Asia to date this month, the world's most international festival brand now gears up for a staggering ELEVEN separate events, in NINE countries across Central and South America, from October 6-15.
In addition to the debut edition of ULTRA Mexico and the second annual edition of ULTRA Brasil, RESISTANCE shows will run in eight countries across nine dates in October, while Road To ULTRA events will take over the beautiful cities of Lima and Santiago on consecutive weekends.
PURCHASE: TICKETS FOR ALL RESISTANCE LATIN AMERICA EVENTS
Featuring performances from Adam Beyer, Jamie Jones, Joseph Capriati, The Martinez Brothers, Nic Fanciulli, Paco Osuna, Pan-Pot, Richie Hawtin, Sasha | John Digweed, Seth Troxler and many more, RESISTANCE will produce standalone shows in Asunción, Buenos Aires (x2), Lima, Rosario, Medellín and Córdoba, as well as dedicated stages at ULTRA Mexico and ULTRA Brasil.
PURCHASE: TICKETS FOR ROAD TO ULTRA PERU
Road To ULTRA Peru is the first RTU event of the year in South America, and is scheduled for October 7 at Club Cultural, a new venue to last year's party. Headliners for the event include Afrojack, Alesso, and Nicky Romero, who will be joined by Feed Me, Malaa, and The Zombie Kids.
PURCHASE: TICKETS FOR ROAD TO ULTRA CHILE
Road To ULTRA Chile returns to the Movistar Arena on October 14 having just announced headliners Alesso and Marshmello. Support will see Feed Me and Malaa take the stage in Santiago, for ULTRA Worldwide's fifth straight year of events in Chile.
Full lineup details and dates for all upcoming Road To ULTRA and RESISTANCE events can be found below.
If you would like to apply for press accreditation for any upcoming ULTRA Latin America events please do so here: http://getinpr.com/accreditations
ROAD TO ULTRA LATIN AMERICA
PERU (10/07)
Afrojack
Alesso
Nicky Romero
Feed Me
Malaa
The Zombie Kids
CHILE (10/14)
Alesso
Marshmello
Feed Me
Malaa
RESISTANCE LATIN AMERICA
ASUNCIÓN (10/06)
Sasha | John Digweed
Nic Fanciulli
MEXICO CITY (10/06-07)
Art Department
Damian Lazarus
Danny Tenaglia
Dubfire
The Martinez Brothers
Matador
Paco Osuna
Richie Hawtin
Seth Troxler
Technasia
And many more…
BUENOS AIRES (Weekend 1) (10/07)
John Digweed | Sasha
And more to be announced…
RIO DE JANEIRO (10/12-14)
Adam Beyer
Jamie Jones
Joseph Capriati
The Martinez Brothers
Nic Fanciulli
Paco Osuna
Popof
Richie Hawtin
Sasha | John Digweed
And many more…
LIMA (10/13)
Jamie Jones
Joseph Capriati
The Martinez Brothers
Nic Fanciulli
Sasha | John Digweed
ROSARIO (10/13)
Pan-Pot
Mathias Kaden
Stacey Pullen
MEDELLÍN (10/14)
Adam Beyer
Nic Fanciulli
Paco Osuna
Sasha | John Digweed
Technasia
CÓRDOBA (10/14)
Jamie Jones
BUENOS AIRES (Weekend 2) (10/15)
Jamie Jones
Joseph Capriati
The Martinez Brothers