ULTRA South Africa Finalizes Fifth Year Lineup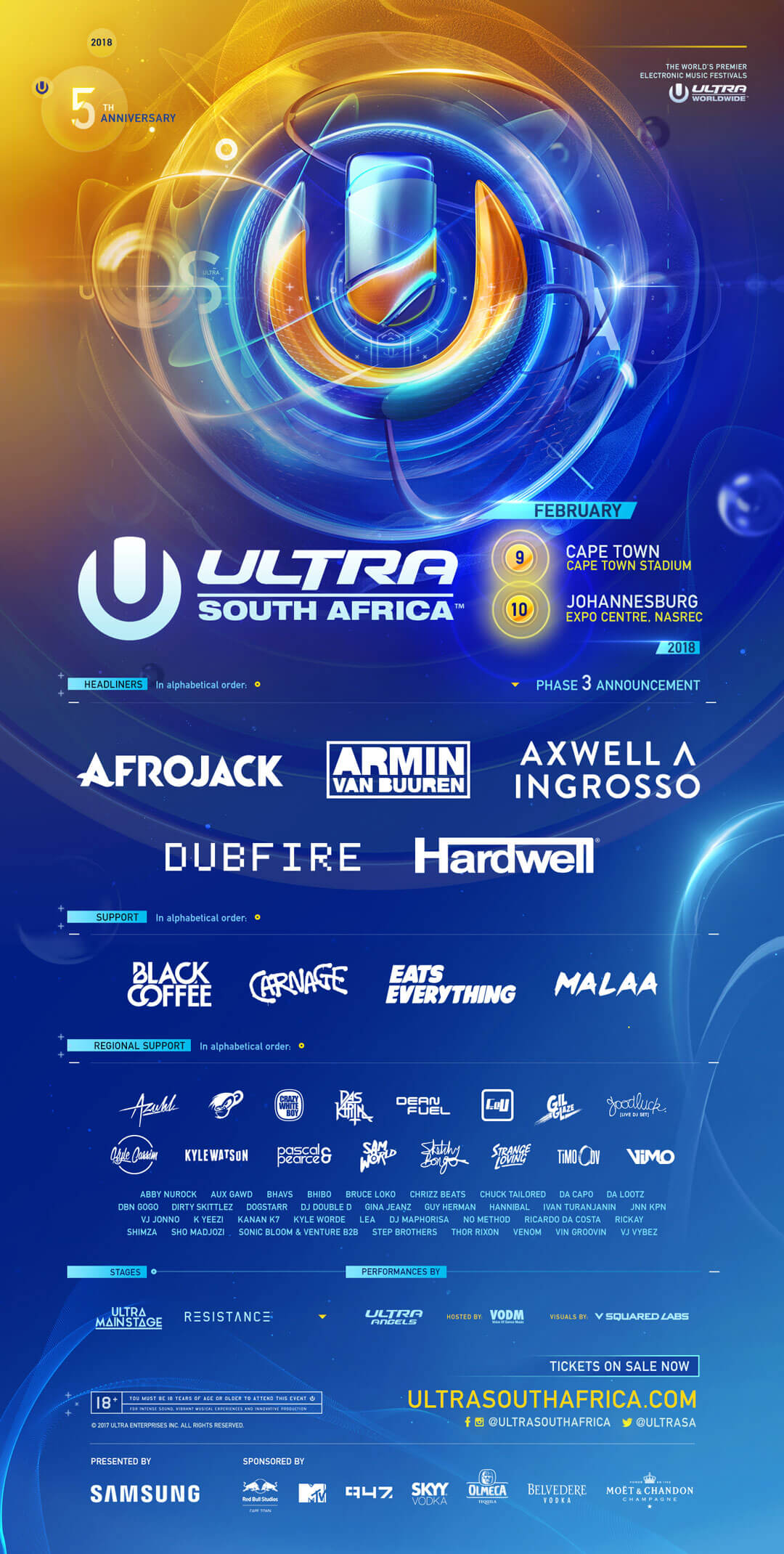 EATS EVERYTHING TO JOIN THE RESISTANCE PLUS MANY MORE REGIONAL ACTS ANNOUNCED
CAPE TOWN – FRIDAY, 9 FEBRUARY 2018 – CAPE TOWN STADIUM
JOHANNESBURG – SATURDAY, 10 FEBRUARY 2018 – EXPO CENTRE, NASREC
As ULTRA South Africa 2018 draws nearer, the festival's lineup continues to grow even more impressive. Calling on a diverse selection of star-studded international talent and home grown heroes, next year's fifth anniversary is set to be their biggest to date.
Welcoming one of the world's most renowned underground producers to the RESISTANCE stage, Eats Everything is the latest international addition to the billing and is set to join the likes of Black Coffee and Dubfire in the mix. Having played multiple RESISTANCE stages and events across the globe, the UK heavyweight is destined to treat the crowd to a serious dose of house and techno.
Showcasing South Africa's exceptional flair for electronic music, some of the country's biggest and most respected artists have also been added to the final lineup. Timo ODV, Sketchy Bongo, Crazy White Boy, Good Luck, Fresh, Euphonik, Shimza, Da Capo, Kyle Watson and many more will all be bringing their own various blends of house music to the decks.
To be a part of the momentous fifth anniversary event, presented by Samsung, head over to ultrasouthafrica.com for tickets. For table reservation inquiries, fill out this form here. To get a sense of what's in store, watch the 2017 Aftermovie here.
Ticket Prices:
Cape Town:
GA:
R700 – Tier 1
R800 – Tier 2
VIP:
R1250 – Tier 1
R1500 – Tier 2
Johannesburg:
GA:
R800 – Tier 1
R950 – Tier 2
VIP:
R1500 – Tier 1
R2000 – Tier 2
VVIP:
R4000 – Tier1
Booking fees are excluded from prices.
ULTRA South Africa Lineup
Headliners (in alphabetical order)
Afrojack
Armin van Buuren
Axwell / Ingrosso
Dubfire
Hardwell
Support (in alphabetical order)
Black Coffee
Carnage
Eats Everything
Malaa
Regional Support (in alphabetical order)
Abby Nurock
Aux Gawd
Bhavs
Bhibo
Bruce Loko
Chrizz Beats
Chuck Tailored
Chunda Munki
Crazy White Boy
Da Capo
Da Lootz
Das Kapital
DBN GoGO
Dean FUEL
Dirty Skittlez
DJ Azhul
DJ Double D
Dogstarr
FeU
Gil Glaze
Gina Jeanz
Good Luck
Guy Herman
Hannibal
Ivan Turanjanin
Jnn Kpn
Kanan K7
K Yeezi
Kyle Cassim
Kyle Watson
Kyle Worde
Lea
Maphorisa
No Method
Pascal & Pearce
Ricardo Da Costa
Rickay
Sam World
Shimza
Sho Madjozi
Sketchy Bongo
Sonic Bloom & Venture B2B
Strange Loving
Step Brothers
Timo ODV
Thor Rixon Live
Venom
Vimo
Vin Groovin
Vj Jonno
Vj Vybez
Follow ULTRA South Africa on Facebook, Twitter and Instagram for real-time updates on artists, tickets and festival updates.